" …. Not only has Alison been generous in her time with helping our family, she has also given financial advice to my son of 24 years of age. He now has adequate insurance that fully covers him should anything adverse happen.
Young people are not always aware of what they need to protect themselves and to build their future. This is where Alison has the expertise to guide and give direction. I would recommend anyone that is looking for financial planning advice especially young adults to contact Alison."
J Govind
Would you like insurance where the premiums do not increase each year?
Insurance premiums usually increase each year because as you get older the chances of you dying or suffering from a serious accident or illness increase. This type of insurance is called Yearly Renewable Term Insurance (YRT).
Level term insurance is where the premiums you pay each month do not increase with age.
The best Level term cover is guaranteed to never increase. Premiums are fixed for the life-time of the policy which you can choose.
At the start they will be more expensive compared to Yearly Renewable Term premiums, but by the time you're in your 50's your premiums will still be affordable . Those with YRT policies will be thinking of cancelling, or reducing their cover, at the time that they are most likely to need to make a claim.
Visually this is represented in the graph below.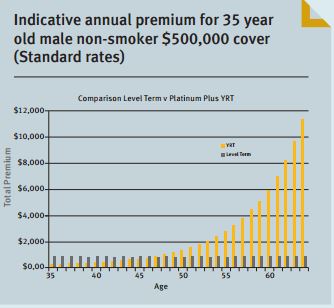 The "gold" bars represent the YRT premiums increasing with age and the "grey" bars the Level Term premiums staying the same.
To request a quote for Level Term Insurance click here